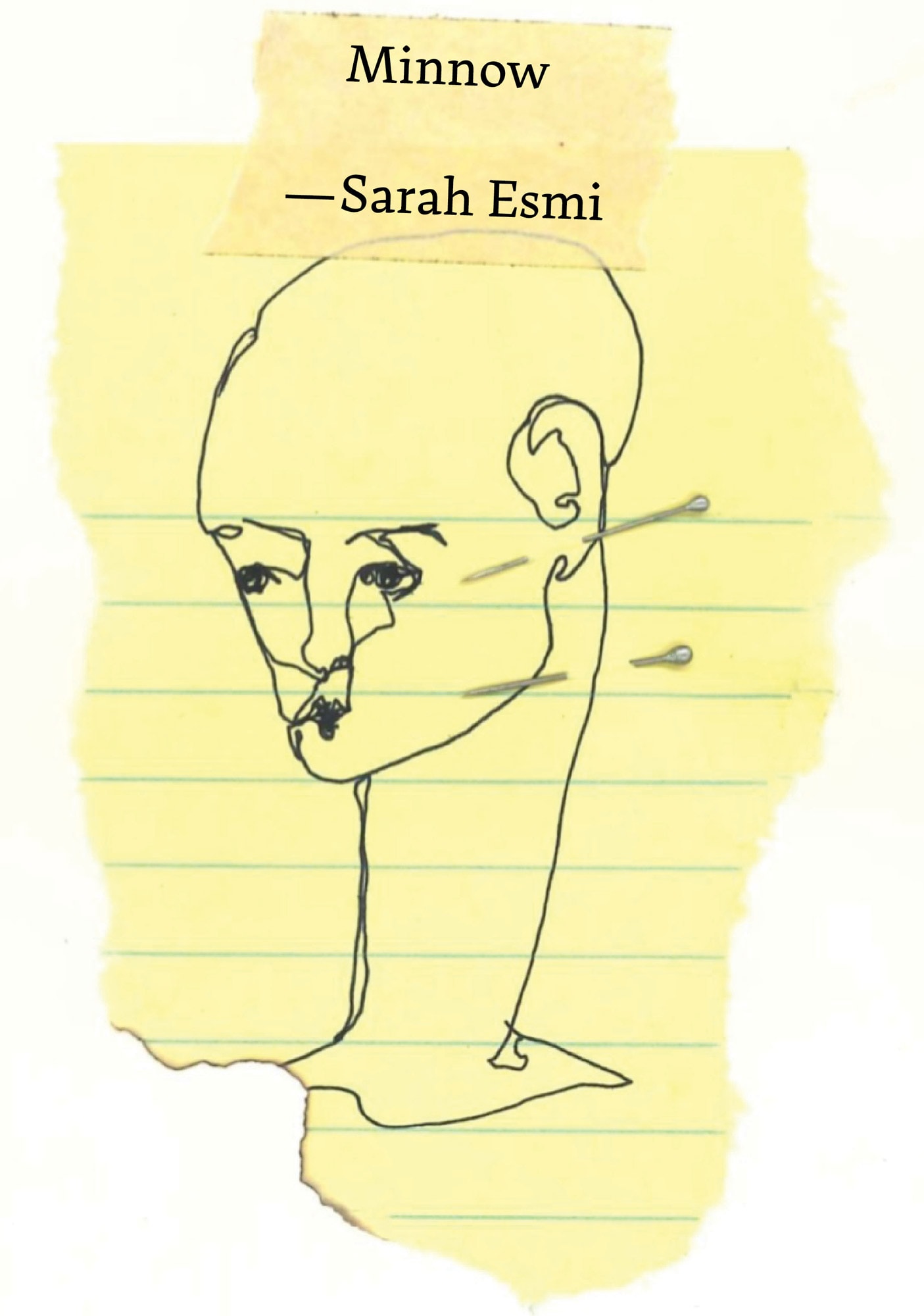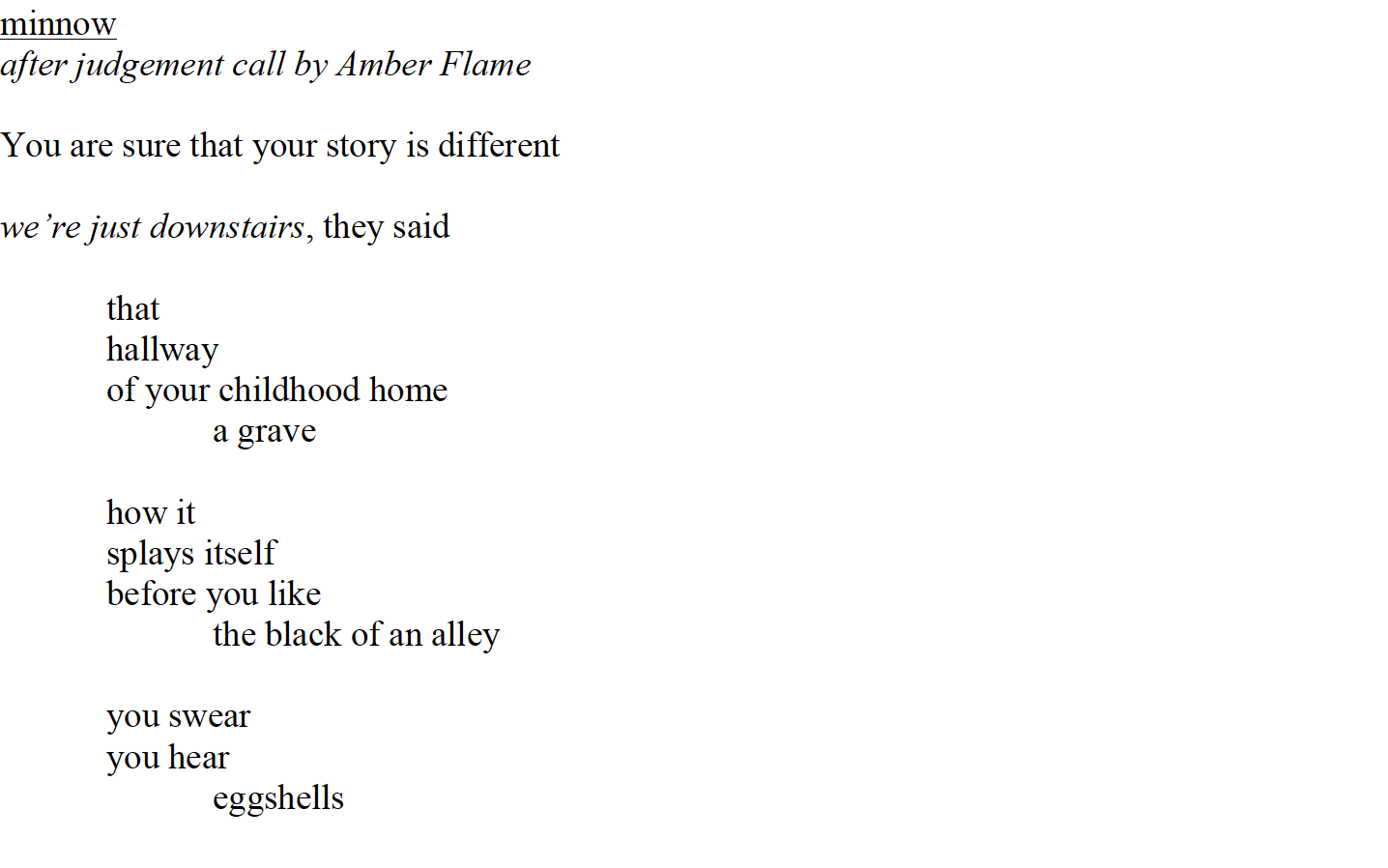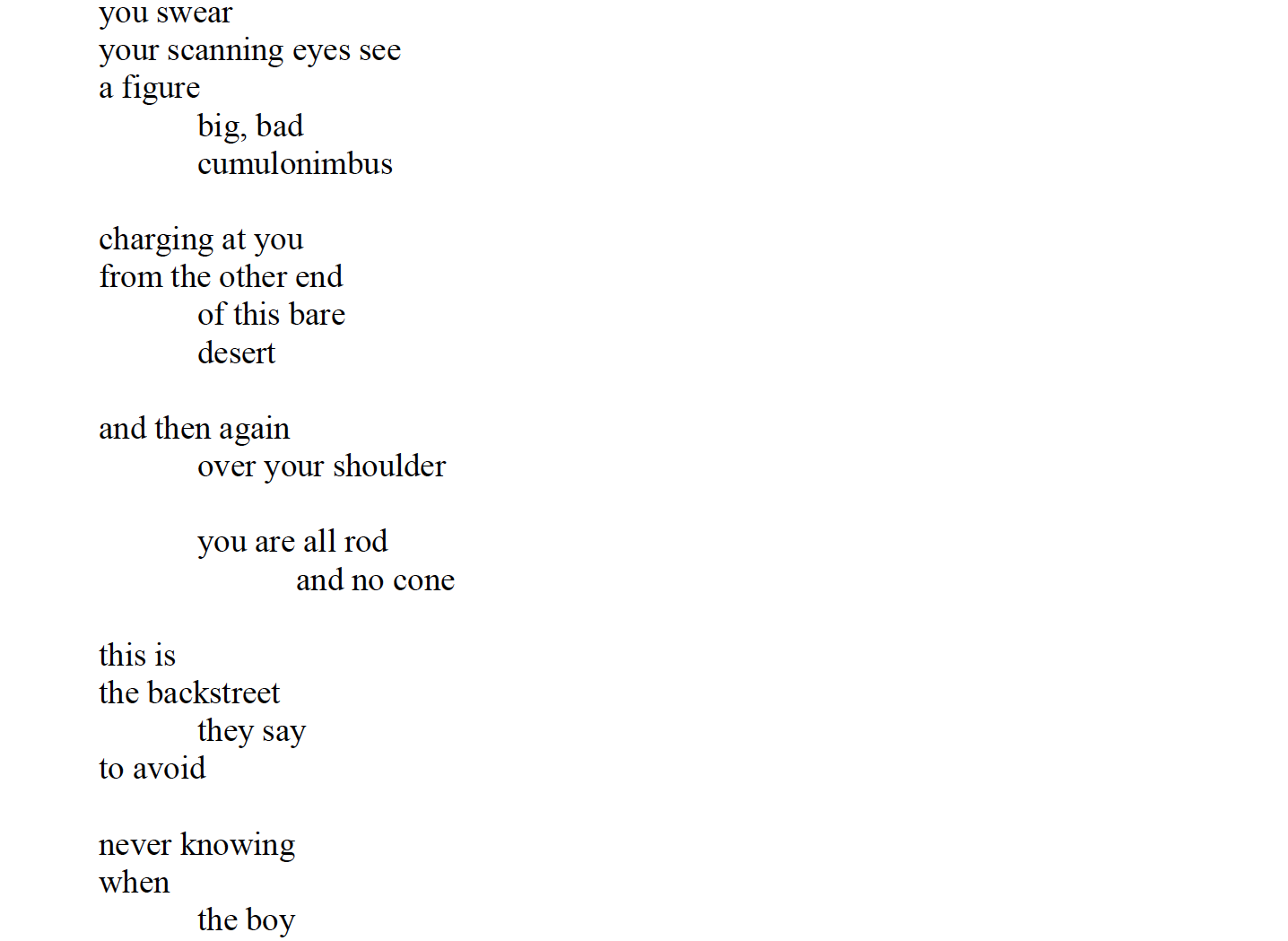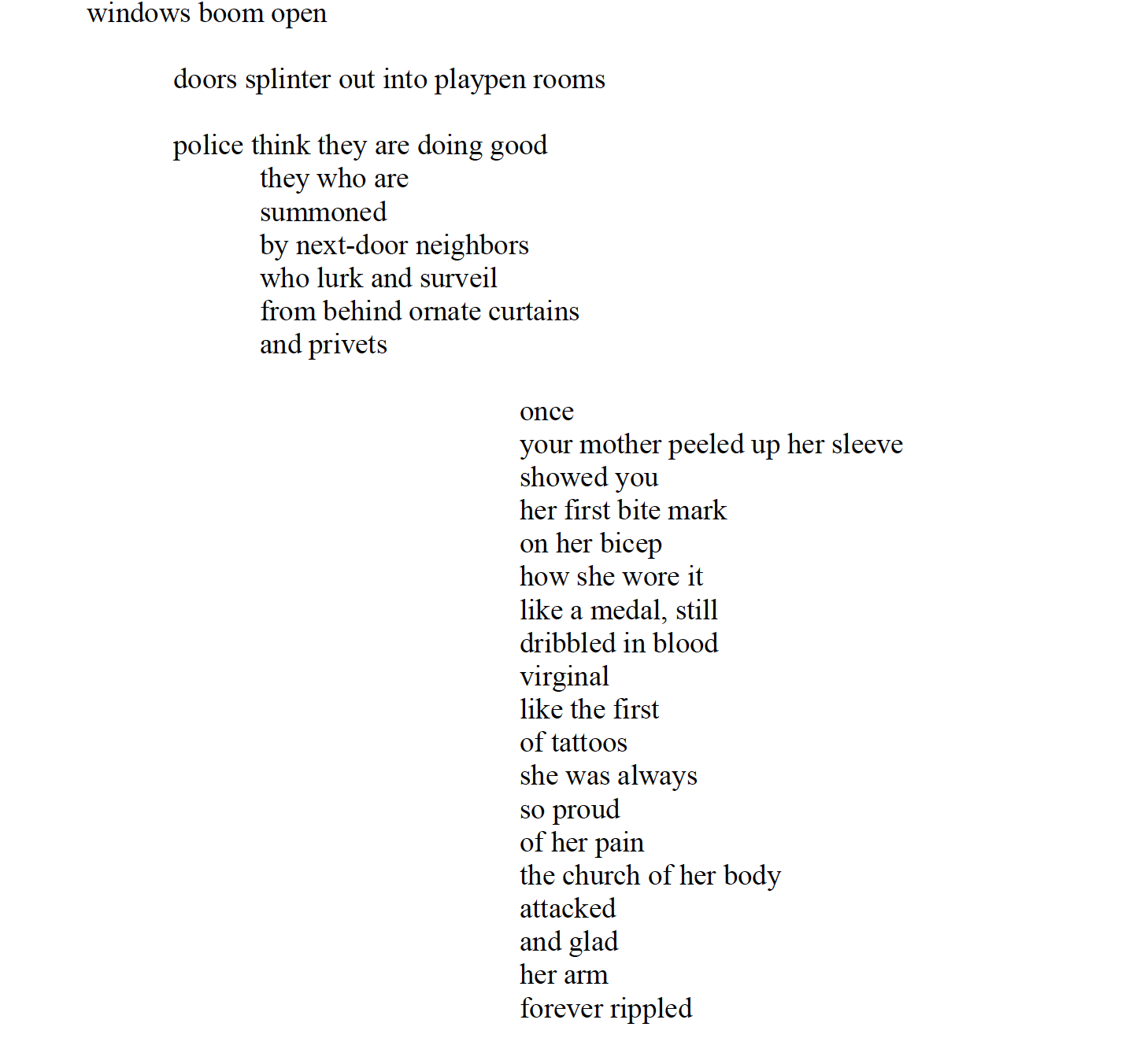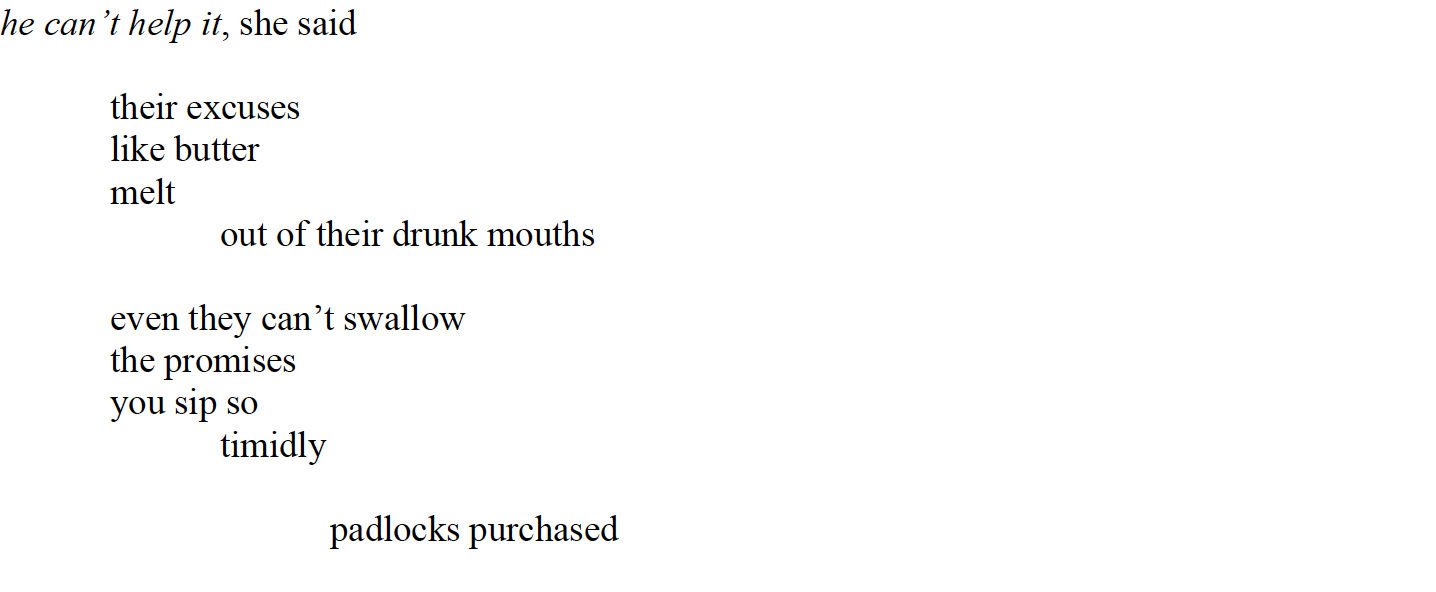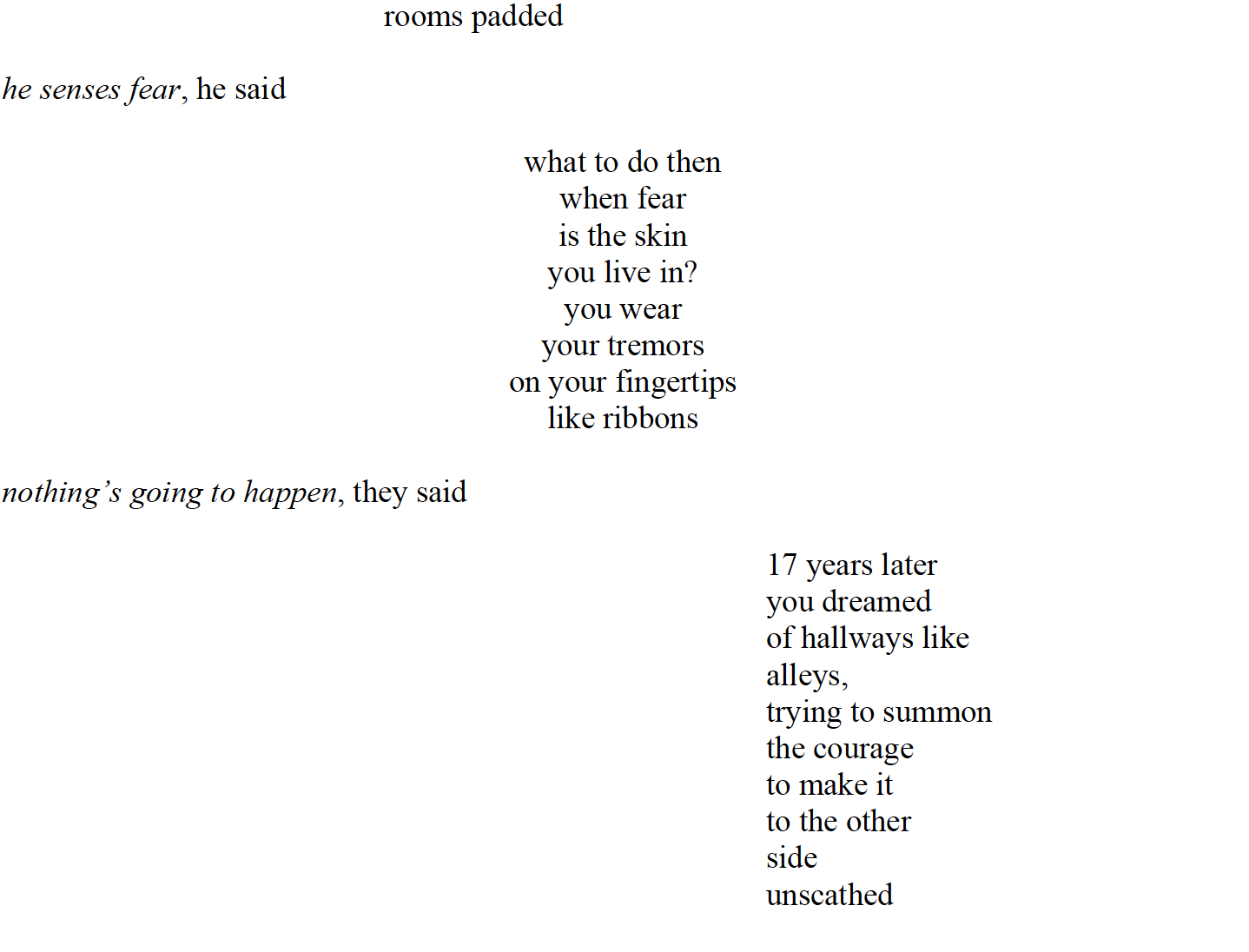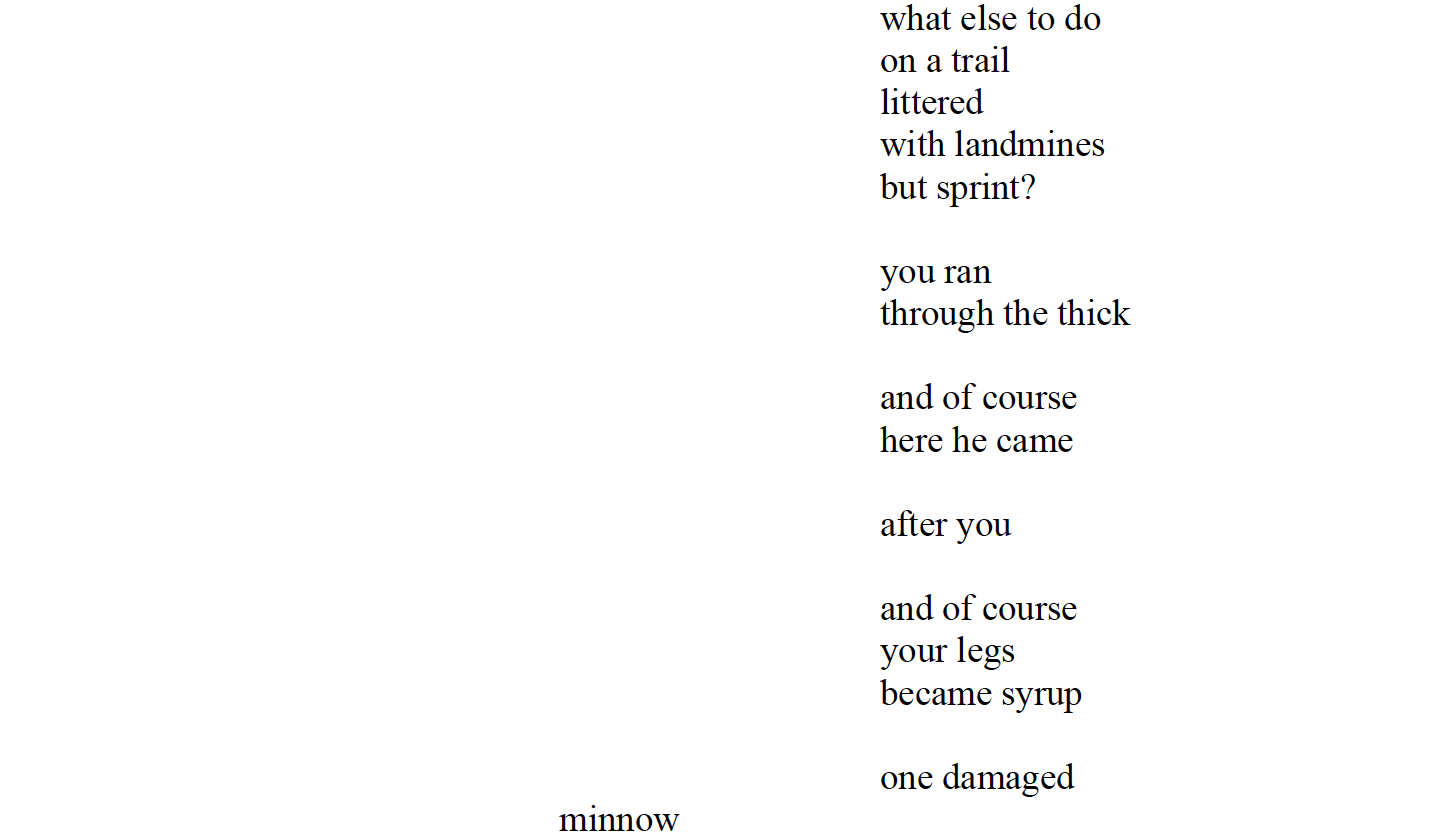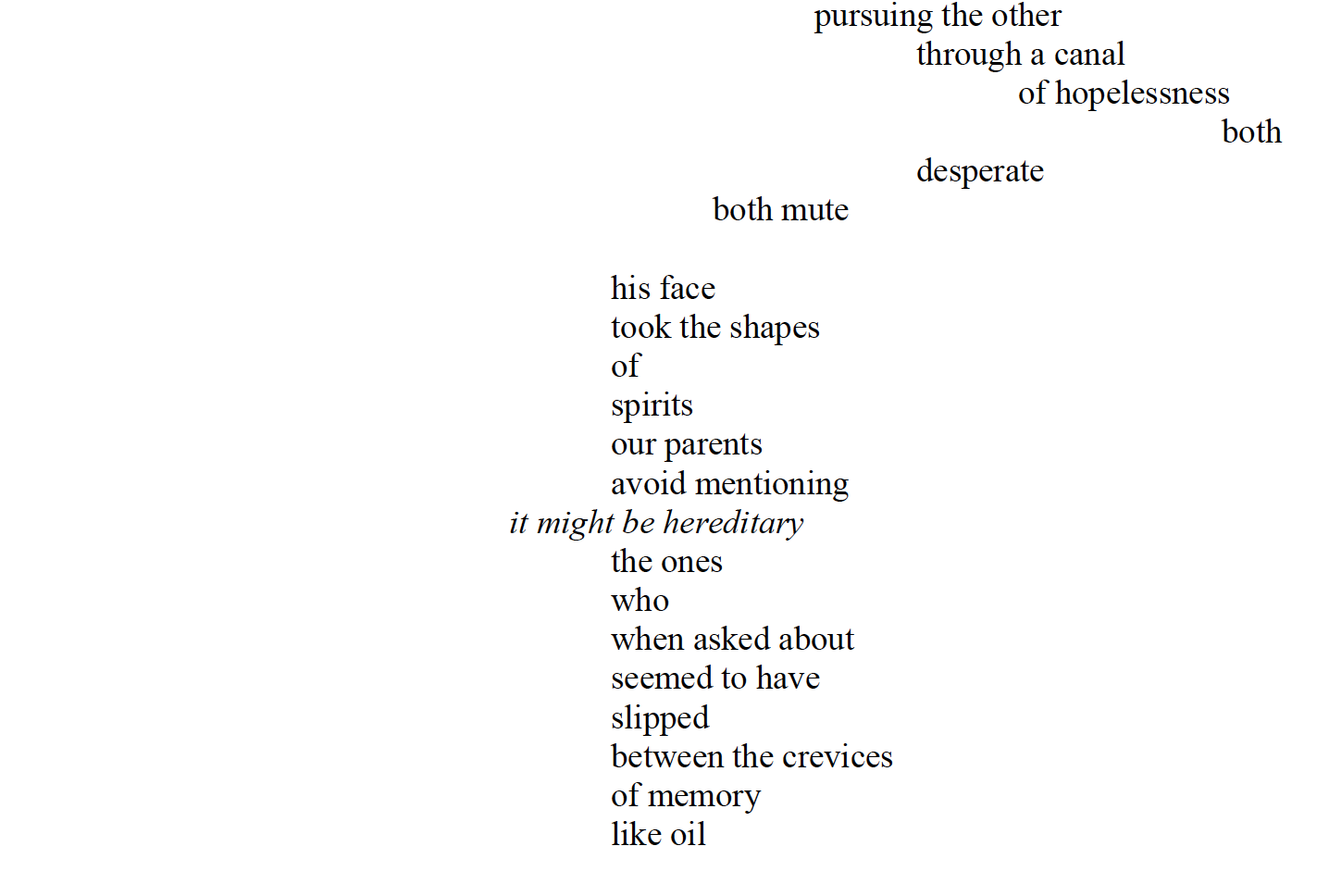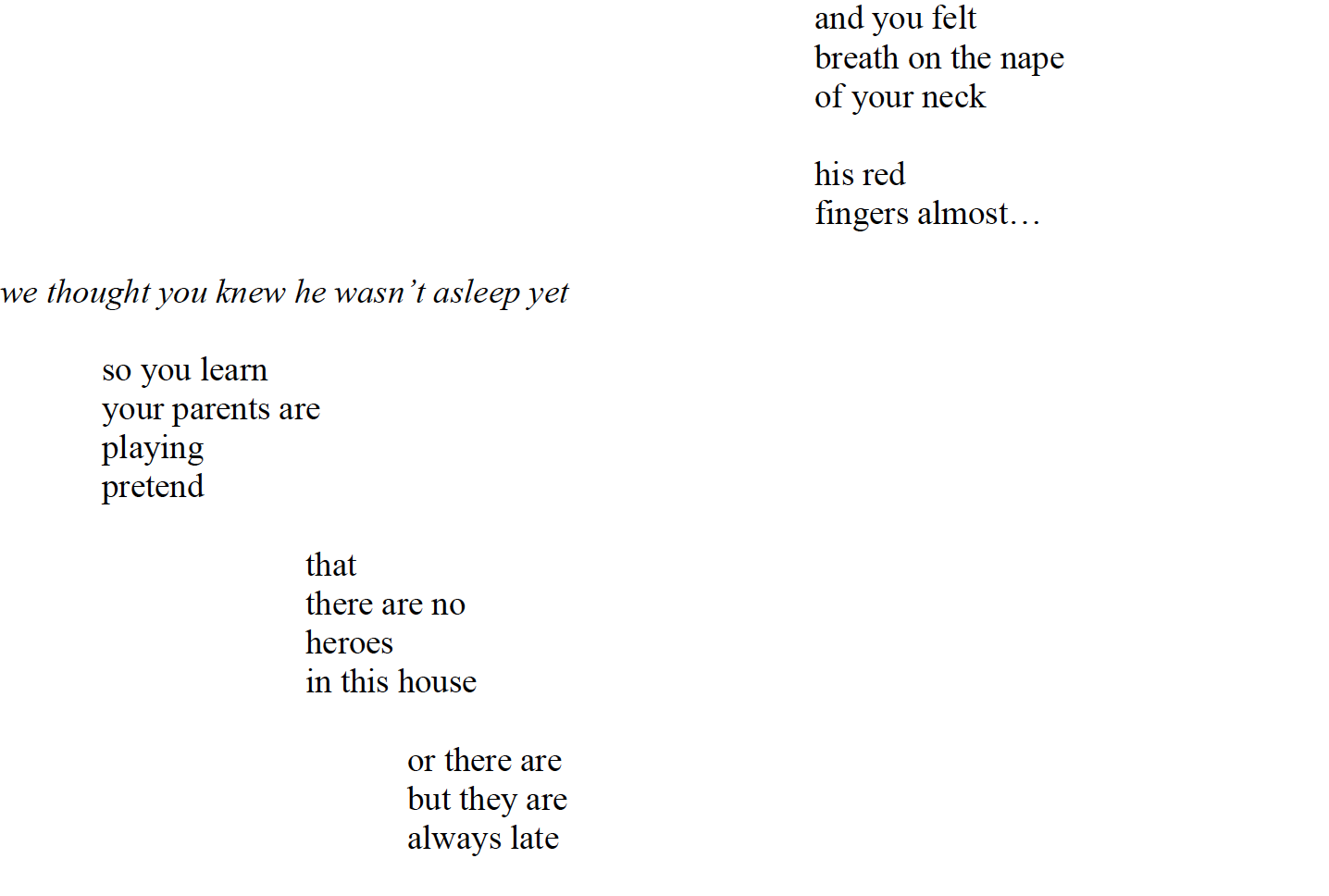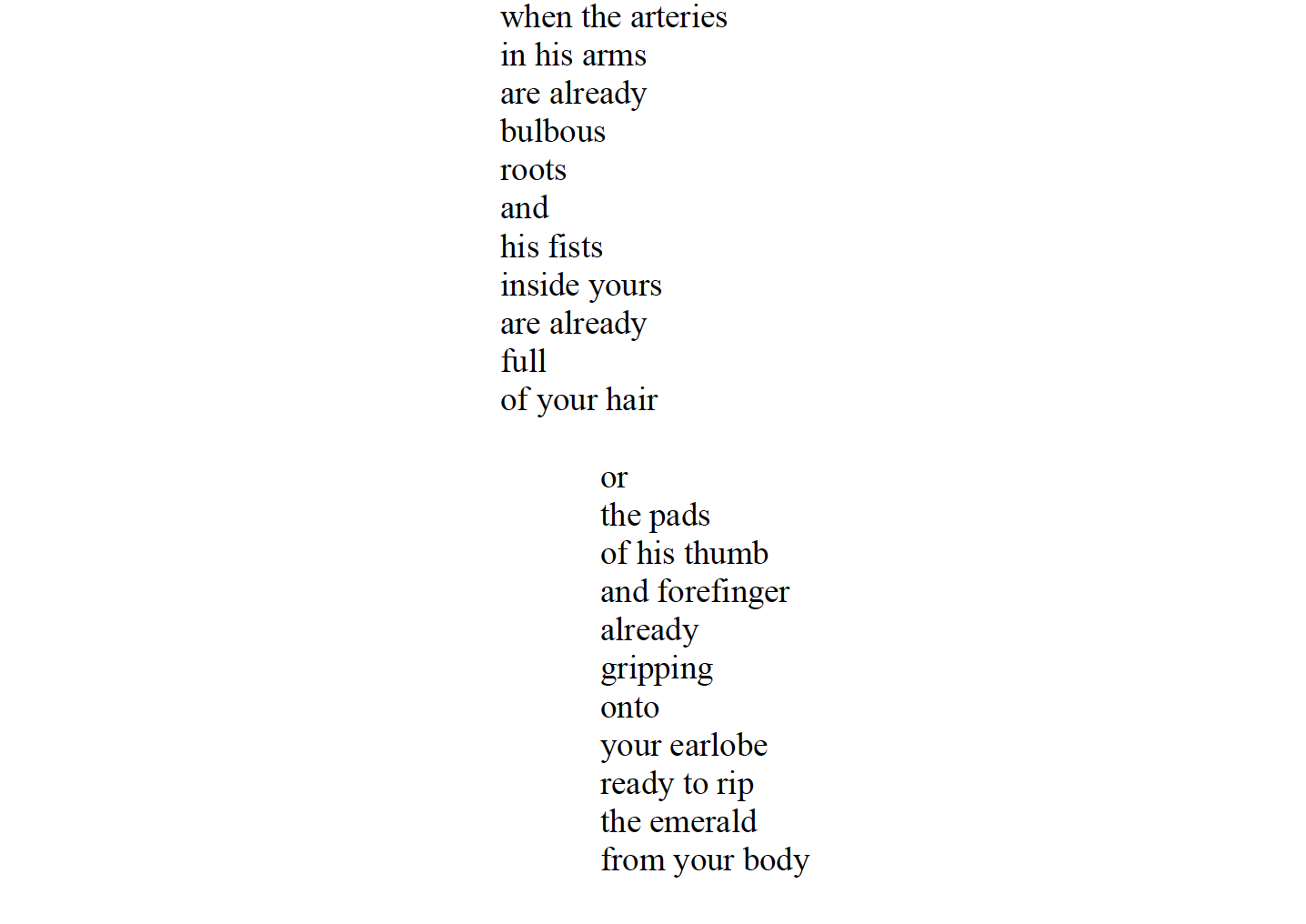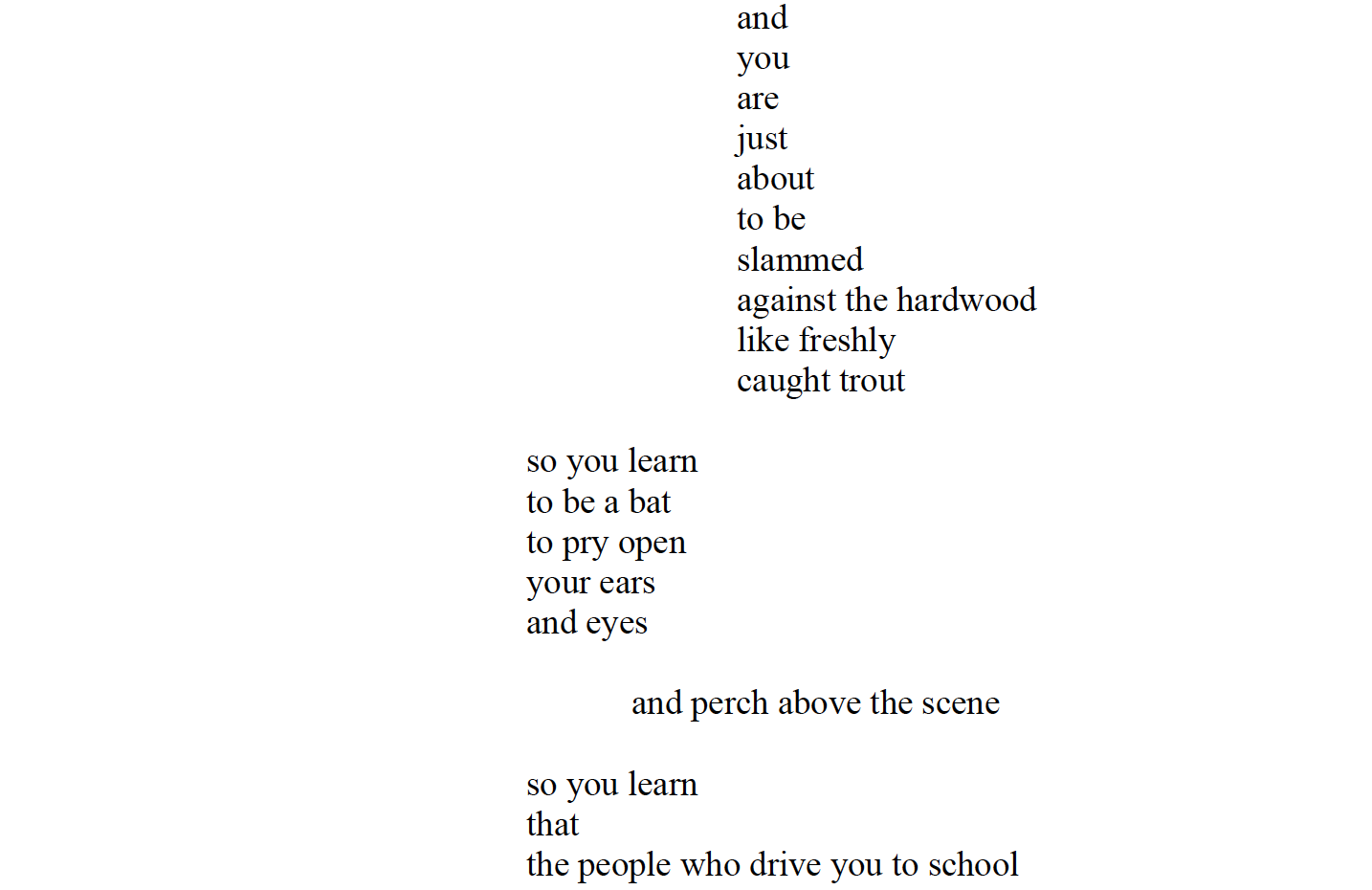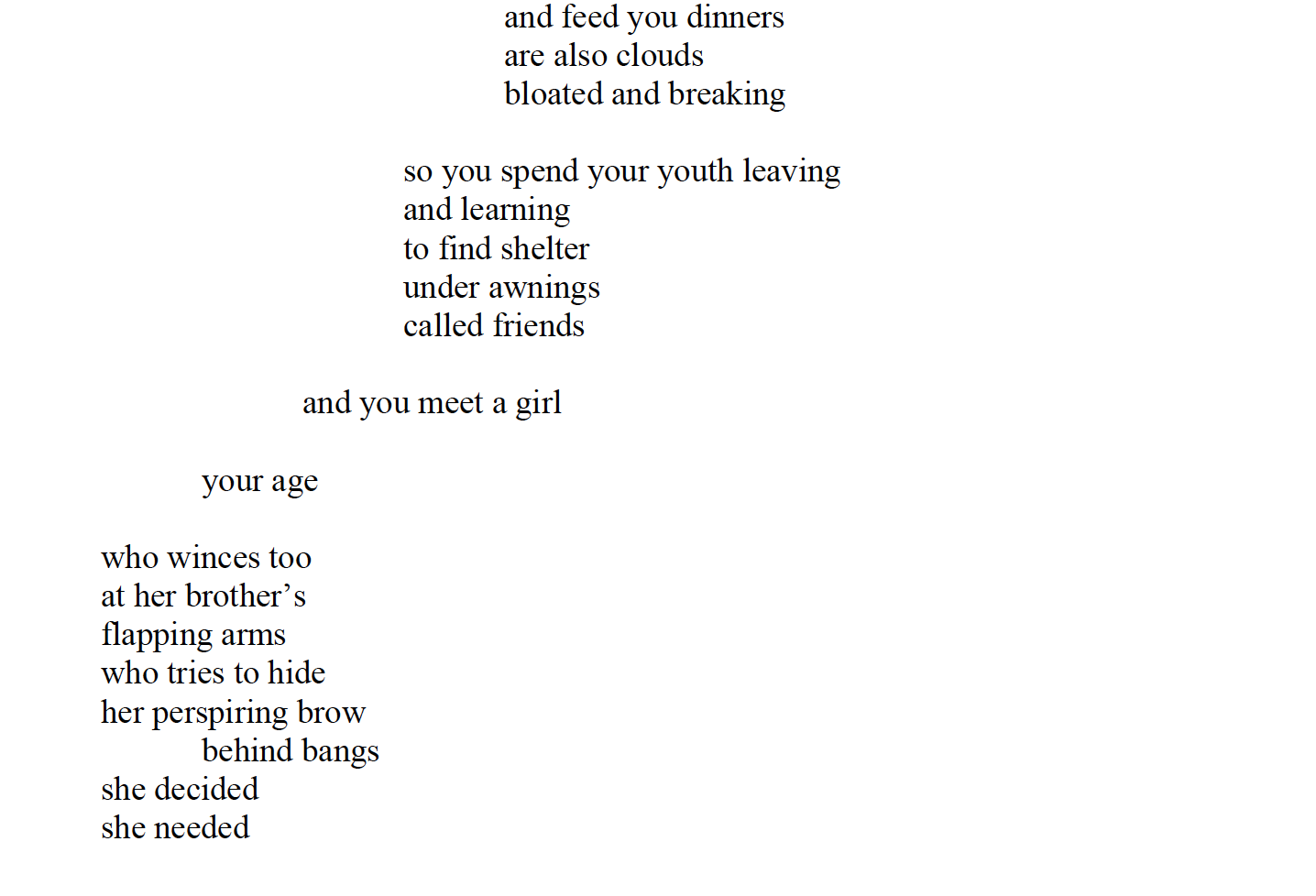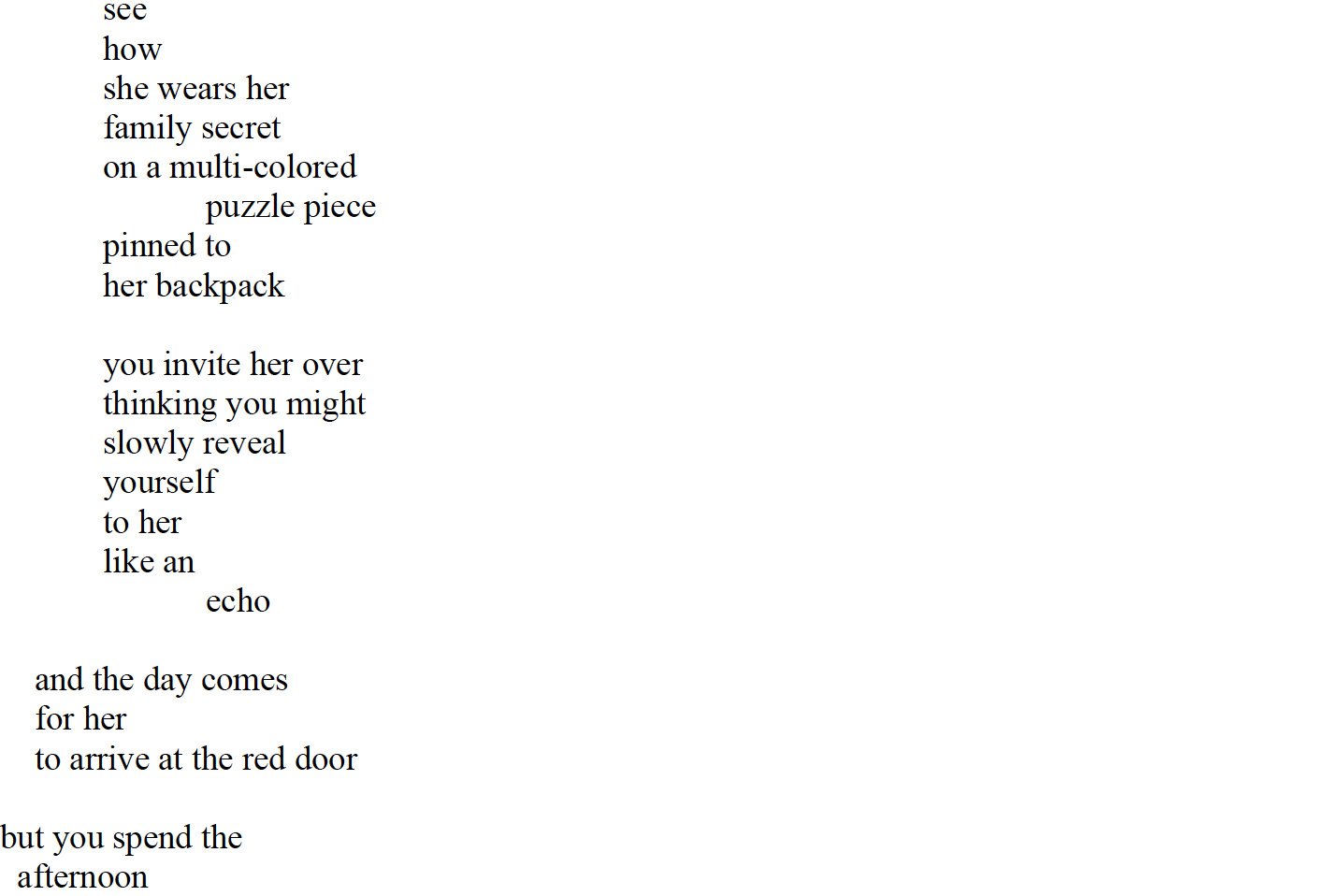 minnow
after judgement call by Amber Flame
You are sure that your story is different
we're just downstairs, they said
that
hallway
of your childhood home
a grave
how it
splays itself
before you like
the black of an alley
you swear
you hear
eggshells
you swear
your scanning eyes see
a figure
big, bad
cumulonimbus
charging at you
from the other end
of this bare
desert
and then again
over your shoulder
you are all rod
and no cone
this is
the backstreet
they say
to avoid
never knowing
when
the boy
will be let loose
to bound around a corner
mouse eyes
ravenous for understanding
knuckles like apples
your ribcage
smashing itself
against
underwire
you are instructed
to keep your hair tied back, to never say no, to be careful and silent
a sacrificial
telescope
an experiment
thrown into a
crazy cosmos
this is how
you learn to be a machine
with brilliant
360-degree sensors
ready to fold in on itself
to dart to refuge
at any moment
he won't hurt you, they said
and then he does
and you learn
that denial
is a bluff
behind which
parents like these
crouch
in order to keep
their special needs
children
needing
windows boom open
doors splinter out into playpen rooms
police think they are doing good
they who are
summoned
by next-door neighbors
who lurk and surveil
from behind ornate curtains
and privets
once
your mother peeled up her sleeve
showed you
her first bite mark
on her bicep
how she wore it
like a medal, still
dribbled in blood
virginal
like the first
of tattoos
she was always
so proud
of her pain
the church of her body
attacked
and glad
her arm
forever rippled
he can't help it, she said
their excuses
like butter
melt
out of their drunk mouths
even they can't swallow
the promises
you sip so
timidly
padlocks purchased
rooms padded
he senses fear, he said
what to do then
when fear
is the skin
you live in?
you wear
your tremors
on your fingertips
like ribbons
nothing's going to happen, they said
17 years later
you dreamed
of hallways like
alleys,
trying to summon
the courage
to make it
to the other
side
unscathed
what else to do
on a trail
littered
with landmines
but sprint?
you ran
through the thick
and of course
here he came
after you
and of course
your legs
became syrup
one damaged
minnow
pursuing the other
through a canal
of hopelessness
both
desperate
both mute
his face
took the shapes
of
spirits
our parents
avoid mentioning
it might be hereditary
the ones
who
when asked about
seemed to have
slipped
between the crevices
of memory
like oil
and you felt
breath on the nape
of your neck
his red
fingers almost…
we thought you knew he wasn't asleep yet
so you learn
your parents are
playing
pretend
that
there are no
heroes
in this house
or there are
but they are
always late
when the arteries
in his arms
are already
bulbous
roots
and
his fists
inside yours
are already
full
of your hair
or
the pads
of his thumb
and forefinger
already
gripping
onto
your earlobe
ready to rip
the emerald
from your body
and
you
are
just
about
to be
slammed
against the hardwood
like freshly
caught trout
so you learn
to be a bat
to pry open
your ears
and eyes
and perch above the scene
so you learn
that
the people who drive you to school
and feed you dinners
are also clouds
bloated and breaking
so you spend your youth leaving
and learning
to find shelter
under awnings
called friends
and you meet a girl
your age
who winces too
at her brother's
flapping arms
who tries to hide
her perspiring brow
behind bangs
she decided
she needed
see
how
she wears her
family secret
on a multi-colored
puzzle piece
pinned to
her backpack
you invite her over
thinking you might
slowly reveal
yourself
to her
like an
echo
and the day comes
for her
to arrive at the red door
but you spend the
afternoon
on the front porch
oblivious and
waiting
because
She is sure her story is different
Sarah Esmi (she/her) is an Iranian-American mother, writer, collage artist, producer, director and lawyer. Her writing has been published in Calyx, Dime Show Review, The Rising Phoenix Review, The San Pedro River Review, Soundings East, and Papeachu Press, and produced at venues such as Dixon Place and Abrons Arts Center. After receiving a Fulbright award, she dedicated seven years to public interest law, including representing clients in immigration court, on death row in Louisiana, in Brooklyn criminal court, and later in psychiatric units throughout New York City. Sarah is co-founder of counterclaim and currently leads the More Art fellowship program, for which she offers writing workshops, open studios and moderation of artist talks to public and socially engaged artists. Guest speaking credits include NYU and CUNY. Sarah is also a graduate of the Mindfulness-Based Stress Reduction program developed by Jon Kabat-Zinn and a trained facilitator.