Nancy Drew and the Case of the Oriental Ghost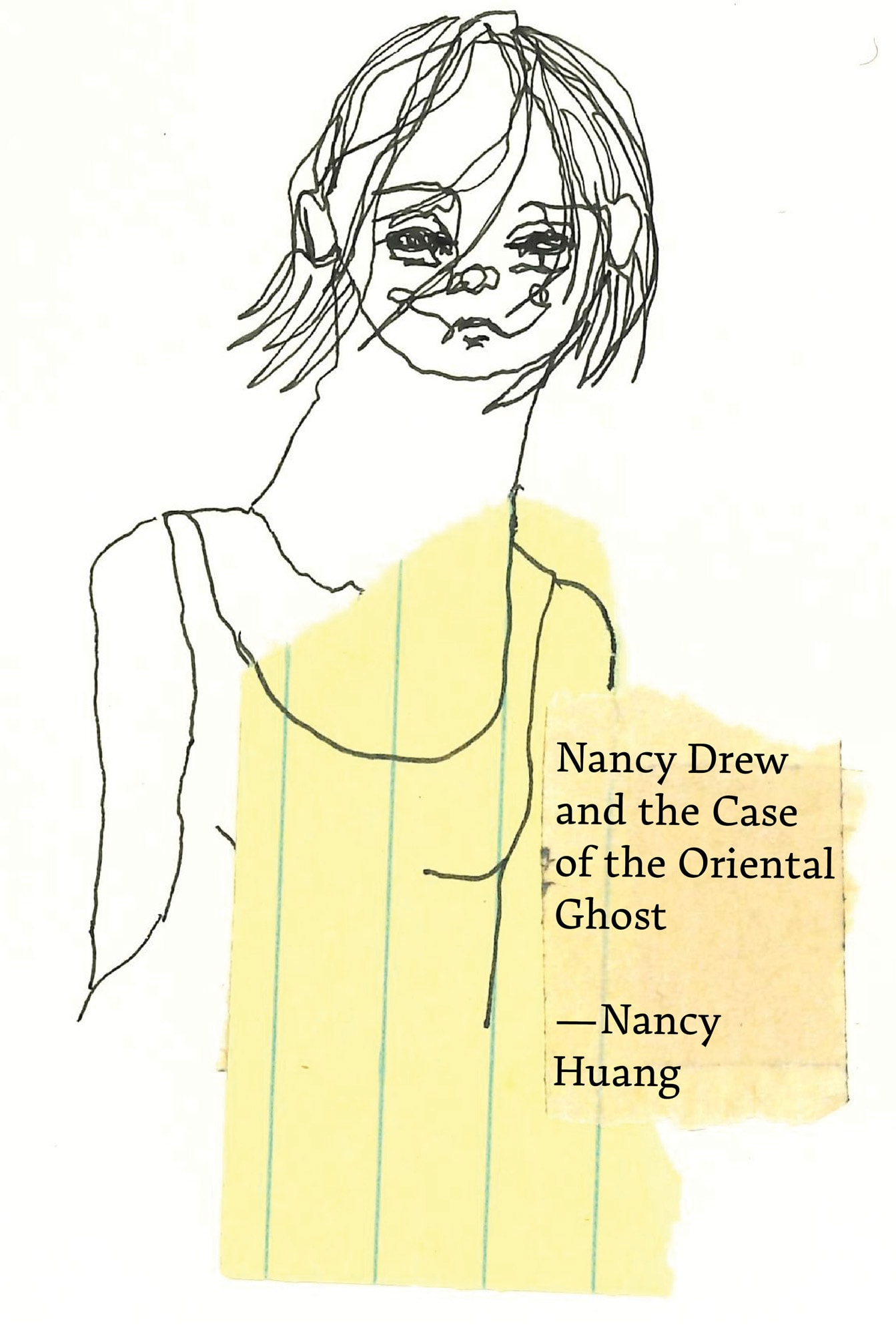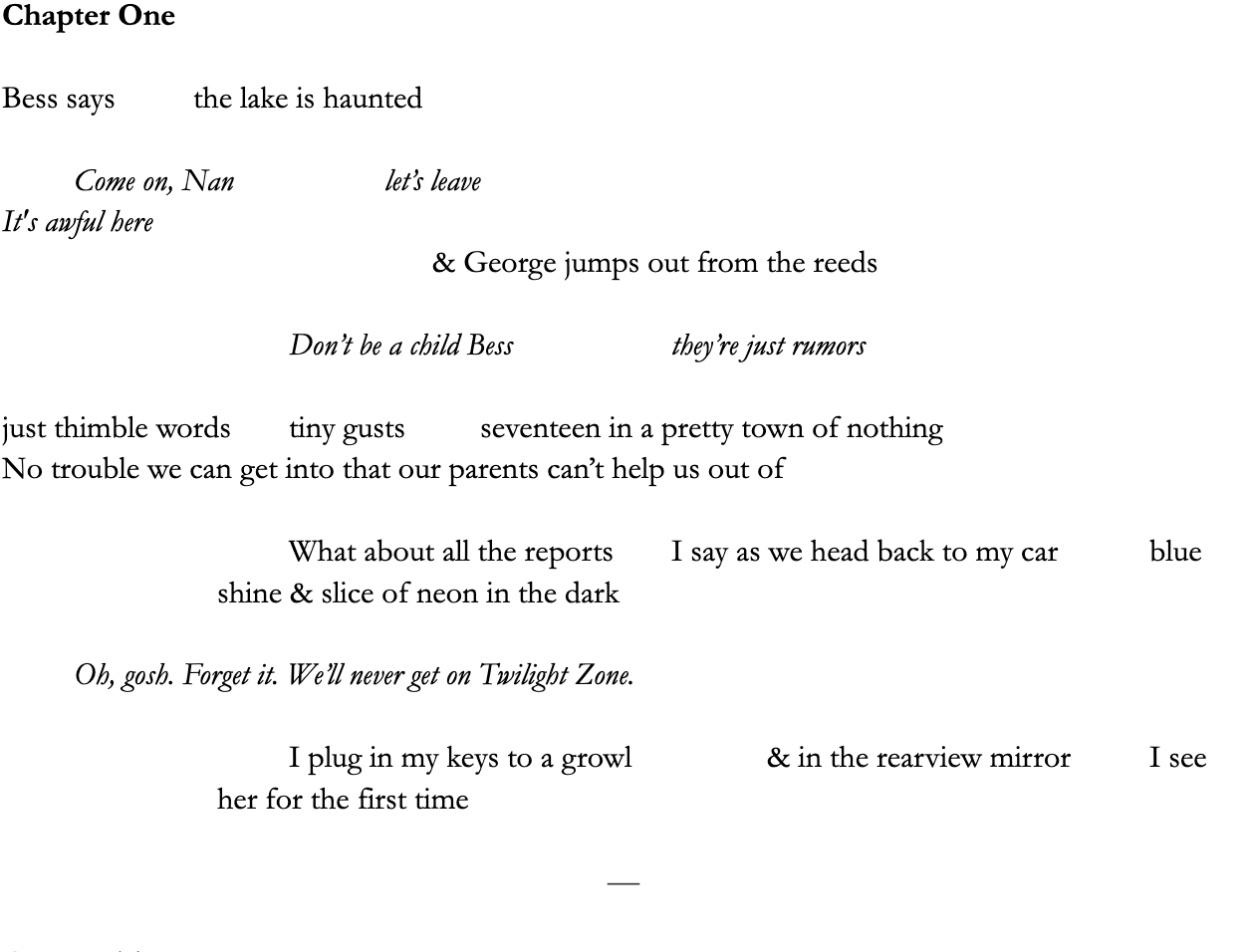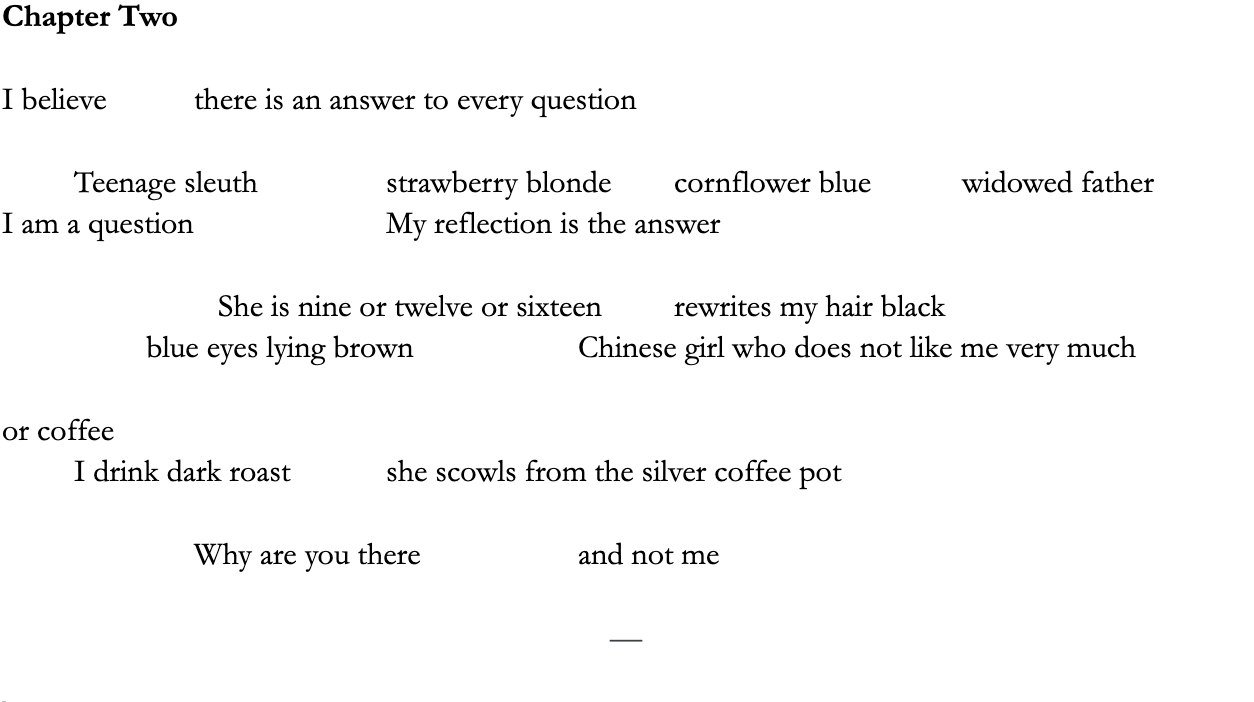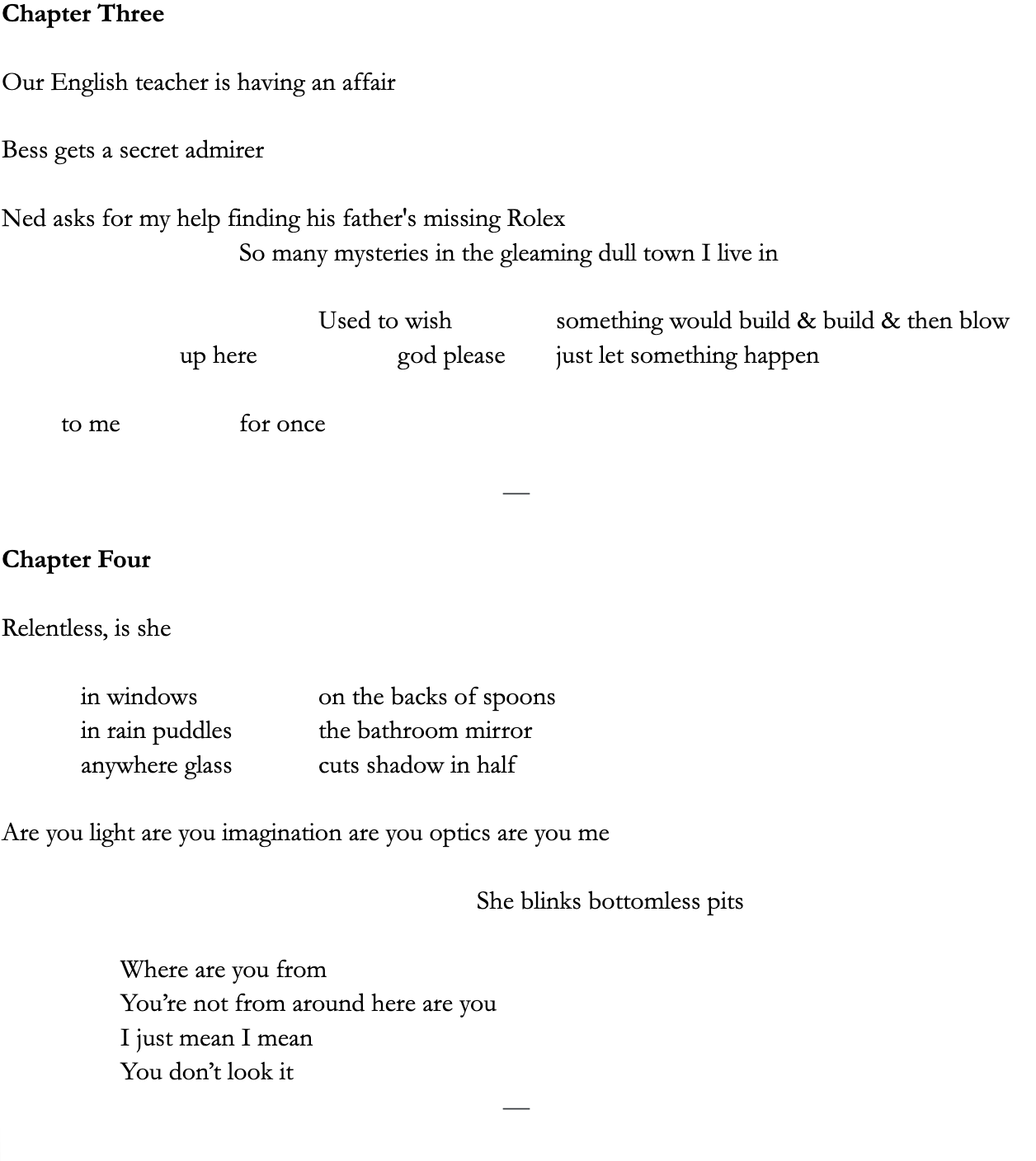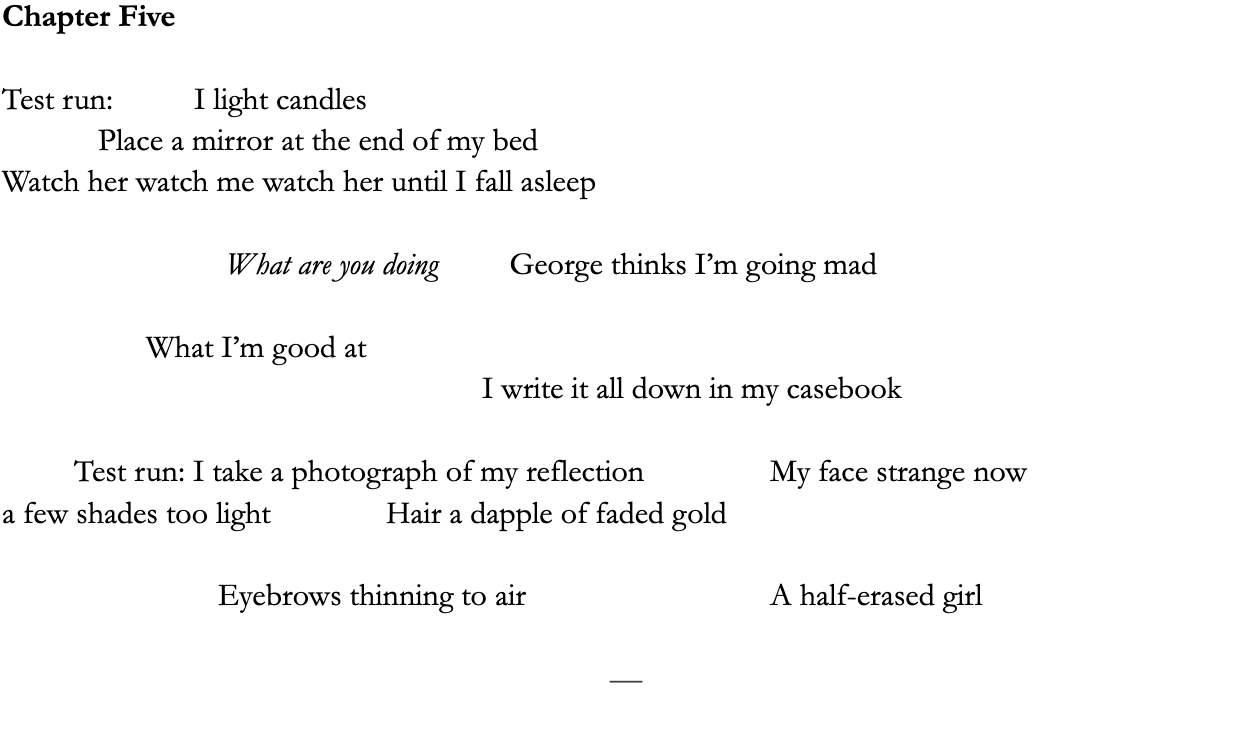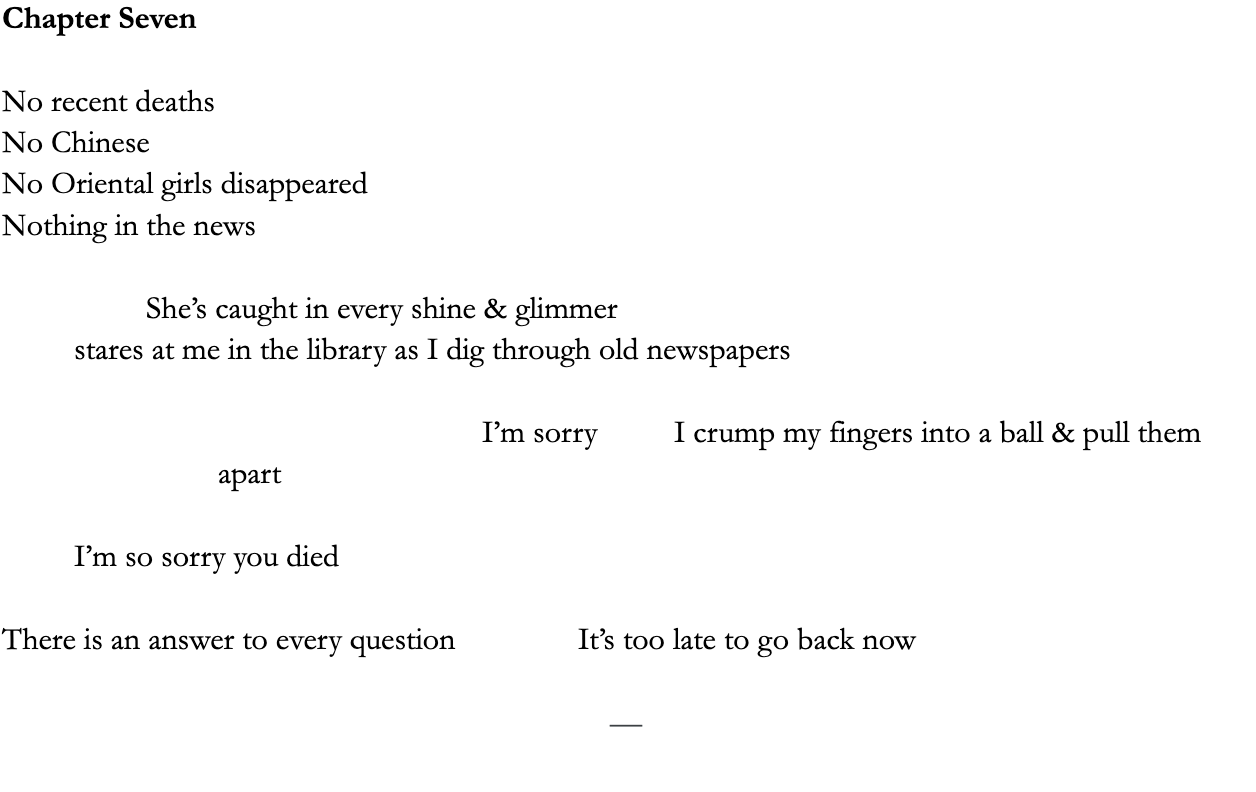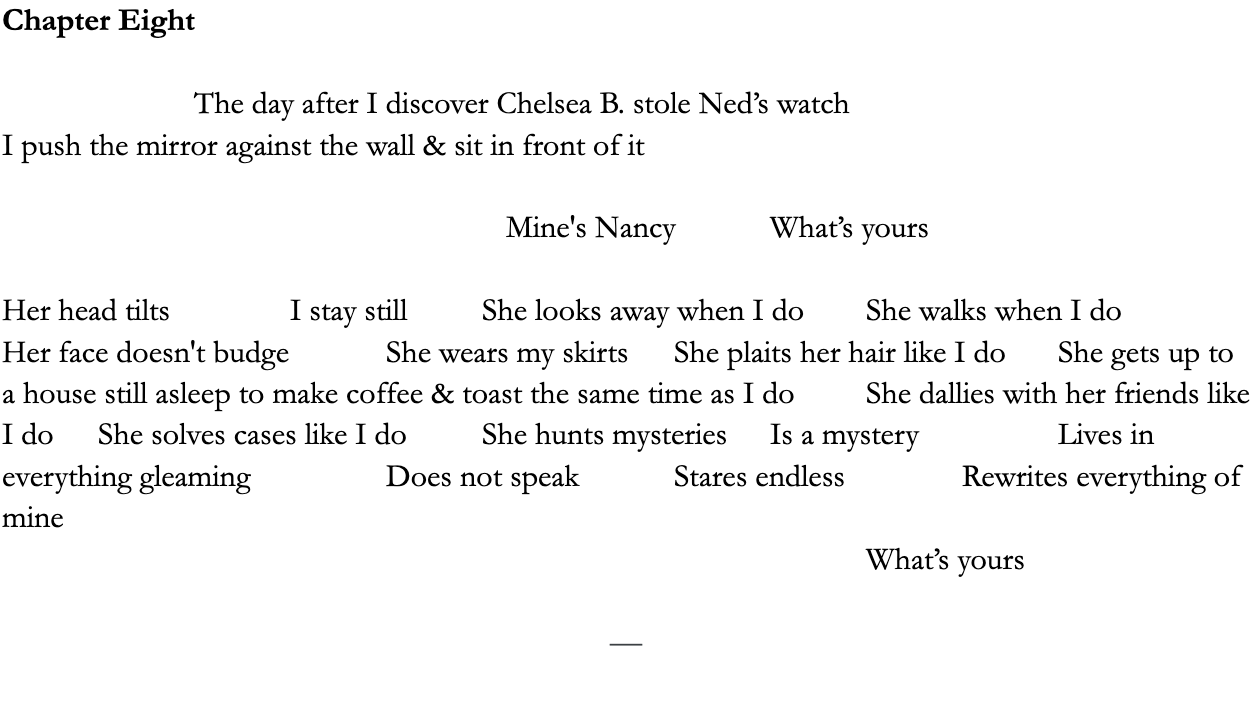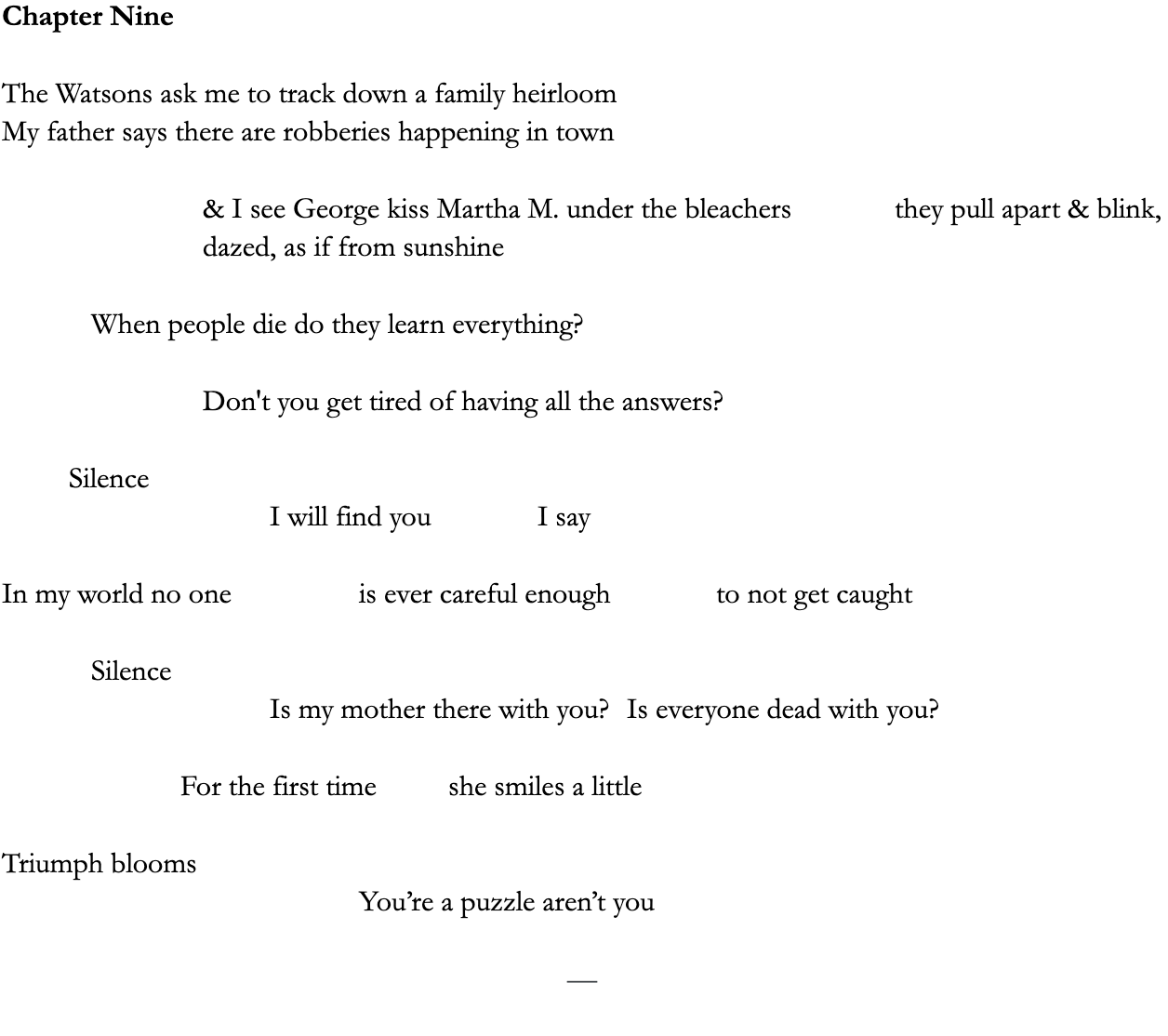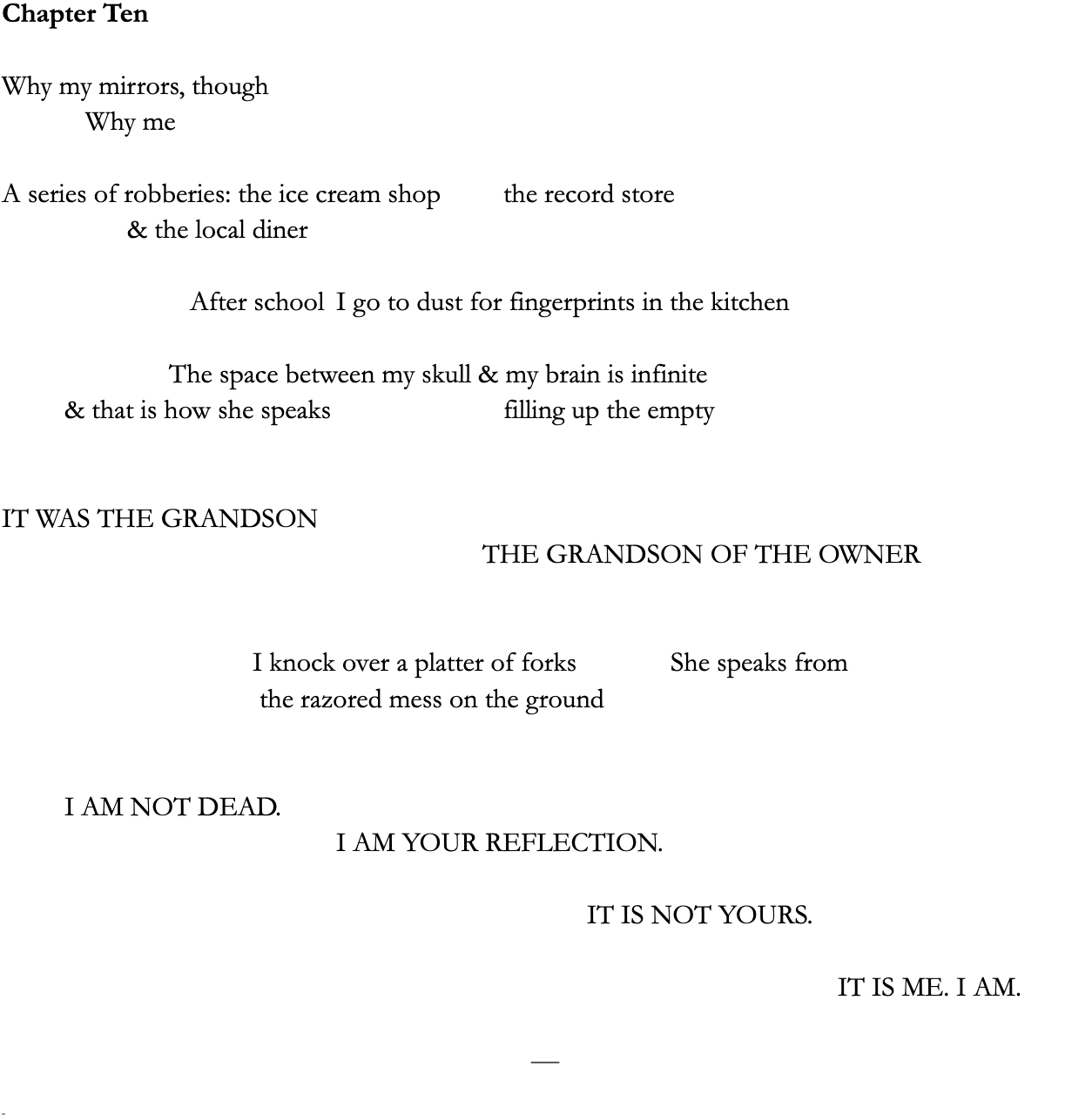 Prologue
I'm Nancy—
I do not own my reflection
—
Chapter One
Bess says  the lake is haunted
Come on, Nan       let's leave
It's awful here
& George jumps out from the reeds
Don't be a child Bess         they're just rumors
just thimble words  tiny gusts    seventeen in a pretty town of nothing
No trouble we can get into that our parents can't help us out of
What about all the reports    I say as we head back to my car     blue shine & slice of neon in the dark
Oh, gosh. Forget it. We'll never get on Twilight Zone.
I plug in my keys to a growl      & in the rearview mirror     I see her for the first time
—
Chapter Two
I believe     there is an answer to every question
Teenage sleuth strawberry blonde cornflower blue widowed father
I am a question                     My reflection is the answer
She is nine or twelve or sixteen      rewrites my hair black
blue eyes lying brown         Chinese girl who does not like me very much
or coffee
I drink dark roast      she scowls from the silver coffee pot
Why are you there and not me
—
Chapter Three
Our English teacher is having an affair
Bess gets a secret admirer
Ned asks for my help finding his father's missing Rolex
So many mysteries in the gleaming dull town I live in
Used to wish    something would build & build & then blow up here            god please   just let something happen
to me            for once
—
Chapter Four
Relentless, is she
in windows            on the backs of spoons
in rain puddles     the bathroom mirror
anywhere glass     cuts shadow in half
Are you light are you imagination are you optics are you me
She blinks bottomless pits
Where are you from
You're not from around here are you
I just mean I mean
You don't look it
—
Chapter Five
Test run:  I light candles
Place a mirror at the end of my bed
Watch her watch me watch her until I fall asleep
What are you doing         George thinks I'm going mad
What I'm good at
I write it all down in my casebook
Test run: I take a photograph of my reflection       My face strange now
a few shades too light    Hair a dapple of faded gold
Eyebrows thinning to air                          A half-erased girl
—
Chapter Six
An Oriental?            
Maybe she doesn't know English          Bess suggests
The windows rattle              She is glaring      I look to the floor
I think she does Bess
We should never have gone ghost hunting          George says  She swings           down from the
top bunk        Puts on a record
Who knew one of us would get possessed 
I'm not possessed I protest
I told you we should have left              Bess fumes
Look, now Nan's    stuck with this                      
this
—
Chapter Seven
No recent deaths
No Chinese
No Oriental girls disappeared
Nothing in the news
She's caught in every shine & glimmer
stares at me in the library as I dig through old newspapers
I'm sorry       I crump my fingers into a ball & pull them apart
I'm so sorry you died
There is an answer to every question            It's too late to go back now
—
Chapter Eight
The day after I discover Chelsea B. stole Ned's watch
I push the mirror against the wall & sit in front of it
Mine's Nancy      What's yours
Her head tilts       I stay still        She looks away when I do     She walks when I do     Her face doesn't budge    She wears my skirts   She plaits her hair like I do    She gets up to a house still asleep to make coffee & toast the same time as I do     She dallies with her friends like I do     She solves cases like I do   She hunts mysteries     Is a mystery       Lives in everything gleaming     Does not speak Stares endless              Rewrites everything of mine
What's yours
—
Chapter Nine
The Watsons ask me to track down a family heirloom
My father says there are robberies happening in town
& I see George kiss Martha M. under the bleachers they pull apart & blink, dazed, as if from sunshine
When people die do they learn everything?
Don't you get tired of having all the answers?
Silence
I will find you   I say
In my world no one        is ever careful enough       to not get caught
Silence
Is my mother there with you?  Is everyone dead with you?
For the first time        she smiles a little
Triumph blooms
You're a puzzle aren't you
—
Chapter Ten
Why my mirrors, though
Why me
A series of robberies: the ice cream shop the record store
& the local diner
After school I go to dust for fingerprints in the kitchen
The space between my skull & my brain is infinite
& that is how she speaks             filling up the empty
IT WAS THE GRANDSON
THE GRANDSON OF THE OWNER
I knock over a platter of forks       She speaks from
the razored mess on the ground
I AM NOT DEAD.
I AM YOUR REFLECTION.
IT IS NOT YOURS.
IT IS ME. I AM.
—
Epilogue
In the bathroom I ask       What are you
She points a finger to our chin      our musculature
WE
she says
There is nothing else
Nan grew up in Shanghai and near Detroit. Her debut poetry collection, Favorite Daughter, won the Write Bloody Press Book Prize and was published in 2017. Nancy's poetry, plays, and prose are published by The Offing, poets.org, The Margins, A24, and others. She is a Sewanee Scholar and a Tin House, Watering Hole, VONA, and Pink Door Fellow. She has a poetry MFA from NYU. She works at a cemetery.